Welcome to the Fennville Rod and Gun Club!

The Fennville Rod and Gun Club is a non-profit, all volunteer operated organization dedicated to the preservation of the great outdoors, and the ongoing promotion of all the shooting sports. FRGC is located in the heart of the beautiful Allegan State Game Area covering twenty acres. The facility includes three lighted trap ranges, two skeet fields, one lighted, and a covered rifle/pistol range with 25, 50, 100, 200, and 400 meter berms. The Fennville Gun Club has a full service, air conditioned clubhouse. We have plenty of seating, and a cozy wood stove stoked full in the winter months to keep the shooters warm as the day`s stories are shared.

We would like to thank all of our members and shooters for another successful year!
---
News & Upcoming Events



Fennville Rod and Gun Club Pheasant Hunt
Sunday October 22, 2023 11:00 am – 4:00 pm
Best Chance Pheasants
1969 56th St. Fennville, MI 49408
$210 per shooter (need twenty hunters to participate)
See Will to get signed up
What you will need
$210 cash
50 or more shells
Blaze orange hat or vest
Guides, dogs, and lunch will be provided
Birds will be field dressed
​

These are the unapproved minutes of August's gun club meeting.


Members Meeting
Thursday, August 10, 2023
@7:00PM
Pledge of Allegiance and Conservation Pledge
Members absent: All members were present
Secretary and Treasurer's reports were read and accepted.
Article 1: The Grand is coming up this weekend, Saturday and Sunday August 12 and 13. We
discussed the menu, and types of events, as well as the schedule for the weekend.
Article 2: We updated the membership on the Friday Fun Shoot, which will be held on Friday

August 25 th , beginning with a fish fry at 5:00PM.

Article 3: The Labor Day Chicken BBQ will be held on Monday, September 4, and is for members and their immediate family.

Article 4: We were informed the Board had decided to change phone service and no longer
use Frontier for a carrier. Due to ongoing problems with the phone service at the Club,
we will now have a cell phone that stays plugged in at the club.

Article 5: New members: Zane Garland, Trevor Mindelli, Dan J. Megas, John Migas, Mason

Peterman, and Landon Treffers.
John Jamros thanked everyone who helped out with the recent Adopt-a-Highway litter
pickup. He had his largest group of volunteers to date.
Meeting adjourned @ 7:15 PM
Next meeting Thursday September 14, @7:00PM

Submitted by Tim Dykstra













Club Address, Map and Contact Information
---
Remember, Fennville Rod And Gun Club is a non-profit ALL VOLUNTEER organization.
Everything that happens at the club is due to the efforts of our generous members.
If you want to contribute some time, services, or goods please let us know!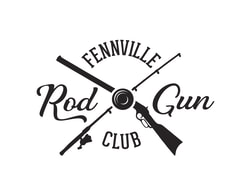 "...Just a little old gun club at the end of a dirt road"