Welcome to the Fennville Rod and Gun Club!

The Fennville Rod and Gun Club is a non-profit, all volunteer operated organization dedicated to the preservation of the great outdoors, and the ongoing promotion of all the shooting sports. FRGC is located in the heart of the beautiful Allegan State Game Area covering twenty acres. The facility includes three lighted trap ranges, two skeet fields, one lighted, and a covered rifle/pistol range with 25, 50, 100, 200, and 400 meter berms. The Fennville Gun Club has a full service, air conditioned clubhouse. We have plenty of seating, and a cozy wood stove stoked full in the winter months to keep the shooters warm as the day`s stories are shared.

We would like to thank all of our members and shooters for another successful year! Our regular Tuesdays and Saturdays were phenomenal with open trap and skeet rounds and many new faces have become regulars! Skeet shooting is growing and that's great to see.
---
News & Upcoming Events
---
FEBRUARY EVENTS:Saturday, February 13th
- Trap & Skeet 12:00 - 4:00pm Rifle Range is closed during this event.
Sunday, February 14th- Calcutta
FGRC
hosts the WMCC Calcutta Circuit. Protections starts about 10:00 am, Lunch served at 1:00pm
Saturday, February 20th
- Trap & Skeet 12:00 - 4:00pm Rifle Range is closed during this event.
Friday Night Fun Shoot- February 26th-
Club opens at 5:00 protections start around 5:30.
Saturday, February 27th-
Trap & Skeet 12:00 - 4:00pm Rifle Range is closed during this event.
Sunday February 28th-
8:00 am to 5:00 pm
CPL Concealed Pistol License Class
- $95.00 Contact:
Skip Coreyll
at
Midwest Tactical Training
to reserve your spot!
---
NEWS
Renewal forms, the latest Newsletter and Calendar of Events were mailed the first week of February (Both of which are available early on the "Calendar and Newsletter" page if you just can't wait!) If you didn't get your by Feb. 15th, please
let us know
. Thanks!
---
---
Remember, Fennville Rod And Gun Club is a non-profit ALL VOLUNTEER organization.
Everything that happens at the club is due to the efforts of our generous members.
If you want to contribute some time, services, or goods please let us know!

---
Club Address, Map and Contact Information

---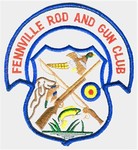 "...Just a little old gun club at the end of a dirt road"